Easy Cooked Egg Nog
6 servings
4 eggs
1/4 c sugar
4 3/4 c milk (divided in half)
2 tsp vanilla
2 dashes nutmeg
Blend ingredients together (using only 1/2 milk)  in a saucepan and cook until hot. Add remaining 1/2 milk after cooking, stirring in. Refrigerate until cold.
Then pour into tall glasses and enjoy!! This recipe is great so you don't have to worry about the raw eggs and it taste wonderful!!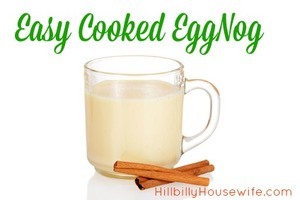 Disclosure: Some of the links below are affilate links, meaning, at no additional cost to you, I will earn a commission if you click through and make a purchase.