Easy Breakfast Granola
Are you a fan of granola? My daughter loves it. Granola and yogurt is one of her favorite breakfasts and snacks. I love the fact that with this simple overnight granola recipe I control the ingredients and know exactly what goes in it.
I serve this either with milk or yogurt and a side of fresh fruit. It makes a nice filling breakfast. This s also very customizable. If you don't like dried apricots, or don't have any on hand, try replacing them with dried apples. Dried cranberries instead of raisins are great as well. I've also made this with walnuts instead of almonds and sometimes I sprinkle some dried pumpkin seeds in as well. Pick and choose and experiment a bit for a granola that's just right for you.
Overnight Breakfast Granola
Ingredients
9 oz rolled oats
4 oz dried apricots, roughly chopped
4 oz raisins
2 oz almonds, roughly chopped
½ cup of pure apple juice
Instructions
Mix together the oats, raisins, apricots and almonds. Stir in the apple juice. Cover and refrigerate overnight.
Next morning, arrange the cereal in separate bowls and serve with natural yogurt, fresh fruit and a drizzle of honey.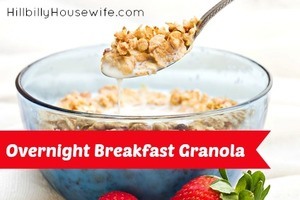 Disclosure: Some of the links below are affilate links, meaning, at no additional cost to you, I will earn a commission if you click through and make a purchase.