Easy Appliance Cleaning Step-by-Step
When spring cleaning you'll want to pay special attention to your appliances. Properly cleaned and maintained appliances last longer. This saves you time, energy and money – buying new appliances can be a hassle.
However, cleaning your appliances is likely to consume most of your spring cleaning time. This is particularly true for the bigger appliances like your refrigerator and your oven. A few simple steps and tips can make the job easier.
Appliance Cleaning  in 5 Easy Steps
1. Instructions. Before you clean any appliance, find the instructions. If you don't know where the instructions are, you can get them online. Visit the manufacturer's website and download the instructions. Read them carefully. Most appliances have cleaning instructions. They'll tell you what steps to take, or not to take. They'll let you know what cleaning products are safe and how often you should clean the item.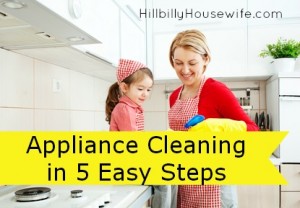 2. Organize your cleaners. Once you know how to clean your appliance, organize your cleaners. For example, if you're cleaning your refrigerator you'll need: a vacuum, interior cleaner for the shelving and drawers. You'll also want a surface cleaner to clean the outside of your refrigerator. Gathering your supplies in advance saves you time once you're cleaning.
3. Plan around it. With many appliances you'll need to let the cleaners set before you can return to the job. Oven cleaning is a classic example. If you have a self cleaning oven then it generally takes one to two hours.
If you're defrosting the freezer that can take a few hours too. Use this time to your advantage. Plan for it. While your freezer is defrosting you can focus on cleaning the inside of your refrigerator. While your oven is cleaning you can clean out your pantry.
4. Clean inside and out. Remember that appliance cleaning isn't just about how it looks on the outside. Clean the inside, back, front and bottom too. Pull your oven out from the wall if you can and vacuum underneath. Spring cleaning means leaving no crack or crevice untouched.
5. Create a checklist. Before you begin to clean your appliances consider making a checklist. The checklist can help you maximize your time. It'll also help you make sure you take care of everything. You can create your own checklist or you can download them online.
Cleaning your appliances can be a big job. However, with a little preparation and a good plan you can minimize the time and effort it takes. Properly maintained appliances last longer and work better. It's well worth your time to clean them well.
Disclosure: Some of the links below are affilate links, meaning, at no additional cost to you, I will earn a commission if you click through and make a purchase.