Easter, A Great Holiday to be a Gluten Free Kid
Easter is a great holiday for a gluten free kid.  Christmas is fun, but, no Christmas cookies for you, unless mom made them special.  Thanksgiving is nice, but stuffing and pies?  Not anymore.
Ahhhh, but Easter?  What's not to love?  There's ham, potatoes, and the sides, all of which are pretty much gluten free.  But the best thing?   It's the one holiday you can feel like a normal kid.  The main attraction… the Easter basket can look like everybody elses, even if it is gluten free.
There's a plethora of gluten free candy just waiting to be eaten.  Parents, and Grandparents, let me give you some ideas for your gluten free kid's basket.
Hersheys Milk Chocolate Bunnies
Hersheys Special Dark and Milk Chocolate eggs
Cadbury Dairy Milk Chocolate Bunny
Double Bubble Bubble Gum
Starburst Fruit Chews
Wonka Giant Pixy Stix
Snickers Bars
Swedish Fish
Heath Milk Chocolate English Toffee bars, small size
Laffy Taffy
Tootsie Roll Industries, posts that all their candies are gluten free
Ferrara Pan Candy Company
Skittles
M & M's, all brands except the krispy kind
All Just Born Brand candies are gluten free.  That includes my favorite, their Peep Brand marshmellow candies, (all varieties), Mike & Ikes, Teenie Beanie Jelly Beans and more.
And my very favorite jelly beans in the whole world, Jelly Belly jelly beans.  Wooo Hooo!
Dove brand Milk Chocolate eggs, (although mom, these are so good you may want to keep them for yourself) 😉
I like to give my granddaughters little presents in their Easter baskets.  So some non-candy items that are gluten free are:
Crayola Brand Crayons, this includes their markers, washable markers, 3D markers, chalk, oil pastels, model magic, colored pencils, glue paint and Silly Putty.  Crayola Dough is not gluten free.
All Palmer Paints are gluten free
All Ross products except the finger paints.
And Books are always a good addition.  Start your children off with a love of books at an early age, to help them have a more successful school career.
I hope that gave you some new ideas, and helped to make your Easter Basket shopping a little easier.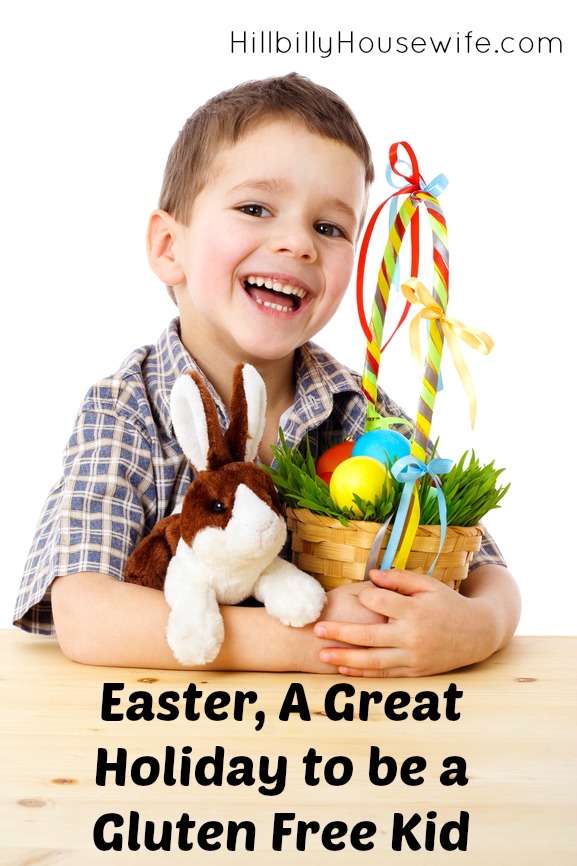 (Mary Blackburn has been gluten free since 1988 and is the owner of http://easyglutenfreeliving.com.  She invites you to visit her site for more gluten free living tips and recipes.  While you're there, take a moment to sign up for The Gluten Free Gazette, her bi-weekly newsletter filled with articles and answers to your questions about gluten, gluten free living and celiac disease.)
Disclosure: Some of the links below are affilate links, meaning, at no additional cost to you, I will earn a commission if you click through and make a purchase.