Do They Have An App? – Frugal Tip
I came across this tip quite accidentally a few weeks ago when I went shopping for some craft supplies. We have a store called "Hobby Lobby". They send out a weekly flyer with what supplies are on sale along with a 40% off one regular priced item coupon. I've used the coupon a few times in the past, but usually either forget to clip it out or forget to bring it to the store.
Thankfully, as I was walking into the store they had a notice about a new store app for smart phones that included the same sales information and coupon. I downloaded it and used the coupon during checkout. No need to print, I just showed them my phone.
Here's a screenshot of the app: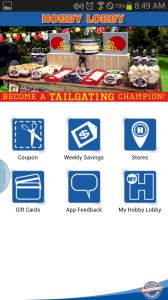 And here's the coupon. I just pulled up this particular screen and showed it to the cashier.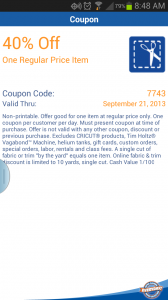 I've since checked into apps for other stores and restaurants and found quite a few of them that offer either coupons or reward programs for things I'm already buying and using.
Disclosure: Some of the links below are affilate links, meaning, at no additional cost to you, I will earn a commission if you click through and make a purchase.