Desserts For Your Summer Picnic
When you plan your picnics this summer, don't be afraid to include some fabulous desserts.  Think beyond the conventional desserts you would serve at home, and you'll discover lots of yummy desserts that transport well to your picnic site, and are tasty, too.  Start right here to get ideas for desserts that work outside the house just as well as inside.

Make It Easy
First thing to remember is, you don't want to slave in the kitchen for hours to come up with a dessert that delights the crowd. The second thing to consider is picnic food needs to be portable, something that's easy to transport and holds up well outdoors.
Think simple, and you'll be in great shape. Key lime cupcakes sound exotic, but they are super simple to make and transport very well. What about some classic banana bread with added walnuts for crunch? Of course, it's summer so a colorful and healthy berry salad with a little vanilla and honey drizzled over the top is a perfect choice.  Another simple dessert is grilled peaches or pears with a little butter, cloves, and sugar, that you can either eat cooled or re-heat on the grill when the burgers and hot dogs come off.
Brownies, cookies, and cupcakes have endless varieties, and you can keep them fresh in air-tight containers all day long. For a little exotic flair, try some cream cheese, granola, sour cream, or ganache in your recipes, and see the surprise when you guests bite into what they think is an 'ordinary' cupcake.

Summer Pies
The humble pie is the glory of any summer picnic or cookout. You can stay with the classics, or branch out a bit. Either way, pies typically travel very well, can often be eaten at room temperature, and never disappoint. Go off the charts with seasonal favorites like blueberry, raspberry, strawberry, peach, and rhubarb, or choose old fashioned favorites like coconut cream, banana cream, and, of course, apple.
The variety of pies is endless. From fruit and berry pies, to no-bake and cheesecake, a picnic pie makes the day's events seem complete. The point is, you can't go wrong with a pie.  For fun you might want to try some pies that are out of the ordinary, like peanut butter pie or cream cheese pies with fruits like kiwi or mandarin oranges mixed in.
No Bake Alternatives
Not in the mood for baking? No problem. There are plenty of fruit salads, smoothies, popsicles, tarts, parfaits, and other frozen desserts to keep a whole host of people happy. Think of the exotic possibilities of things like cantaloupe popsicles, Italian gelatos and tartufos, sorbets and sherbets. And, don't forget the summer favorite, gelatin salad. Use fruit, berries, and ice cream or whipped topping to make your salad fluffy and sweet and you'll hear no complaints from your guests.
If keeping frozen treats frozen is a problem at your picnic, there are still no bake options to consider.  There are many recipes for easy 'drop' style cookies that are very easy to make.  Find a fun recipe and even the kids can join in making them.  There is no oven involved and ingredients are often pretty simple.  You literally just drop the cookie dough by teaspoons onto a cookie sheet and let them harden either at room temperature or in the refrigerator.  Very simple and very tasty, which is a great combination for a casual picnic treat.
Summer picnic desserts are numerous, and the creative mind will find it easy to be original.  Each time you're called upon to come up with another fantastic finishing touch to a summer picnic, remember to keep it simple and sweet for a dessert your family and friends will remember.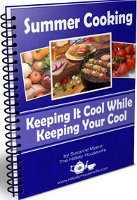 p.s. Summertime cooking calls for cool cooking. Whether you're grilling something scrumptious, tossing a tasty salad, or piling a sandwich high with goodies, you need recipes and ideas.
We've put together a nice collection of tips for cooking cool along with recipes for everything from grilled meats, vegetables, and desserts (yes, desserts!), to fruit salads, veggie salads, rice salads, and bean salads.
Put away your cast iron Dutch oven, your roasting pans, your soup pots… it's time to cook cool! Click on this link and order your copy of Summer Cooking – Keeping It Cool While Keeping Your Cool for ONLY $7 and start enjoying cool cooking today!
Disclosure: Some of the links below are affilate links, meaning, at no additional cost to you, I will earn a commission if you click through and make a purchase.