Delicious Squash Casserole
One of our favorite vegetables is yellow squash and this casserole makes the perfect holiday side dish. It's simple enough to make even on a weeknight, but also makes a wonderful addition to your Thanksgiving or Christmas table. Give it a try and see if you like it as much as we do.
Delicious Squash Casserole
Ingredients
2 pounds yellow squash, cut in 3/4-inch cubes
1 cup chopped onion
1 teaspoon salt
1/4 teaspoon black pepper
4 tablespoons butter
1 cup saltine crackers
1/2 cup milk
1 cup shredded Cheddar cheese
1/2 cup bread crumbs
Instructions
Start by washing and slicing the squash. Place the squash, onion, salt, and pepper in a large pot. Add a little water, cover and cook the squash until tender. Drain any extra liquid out and return the veggies to the pan. Add the butter and season to taste with more salt and pepper.
Preheat your oven to 350F. Butter a 1 1/2-quart baking dish well. Crumble up the crackers and pour them in the squash mixture. Spoon the mixture into a casserole dish. Pour the milk over the squash and sprinkle with the cheese and bread crumbs. Bake your casserole for 20 minutes. The crust will be golden brown.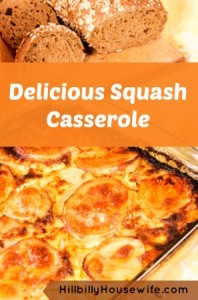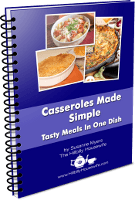 For more delicious casserole recipes and helpful cooking tips, grab a copy of my ebook Casseroles Made Simple – Tasty Meals In One Dish.
You will go from the oven to the table with a mouth watering meal for you family in no time!   Hearty homemade meals, easy clean up, saving time, saving money… what's not to love about casseroles!

Just click on Casseroles Made Simple to order your copy today!


http://www.hillbillyhousewife.com/ebooks/casserole.htm
Disclosure: Some of the links below are affilate links, meaning, at no additional cost to you, I will earn a commission if you click through and make a purchase.