Deli Thins Recipe wanted for breadmaker
My whole family loved the low fat sandwich/deli thin buns that we tried when we were in the US, but they don't sell them here in Mexico.
Does anyone have a breadmaker recipe for these that they'd be willing to share? I've tried making regular hamburger buns in the breadmaker and just cutting them thinner, but that doesn't work….and I've tried googling for a recipe, but no luck there either.
The Hillbilly Housewife Recommends:  Secret Restaurant Recipes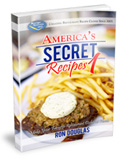 Don't spend a fortune going out to eat. Instead enjoy some of your favorite restaurant fare at home for a fraction of the cost.
These recipes are also perfect for dinner parties or a fun and special family dinner.
Get your copy today at:
Disclosure: Some of the links below are affilate links, meaning, at no additional cost to you, I will earn a commission if you click through and make a purchase.