Dark Rich Chocolate Cake Mix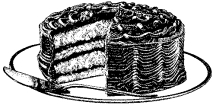 1 cup unbleached white flour
2/3 cup whole wheat flour
1-1/2 cups sugar
3/4 cup unsweetened cocoa
1/4 cup dry buttermilk powder
2 teaspoons baking soda
1 teaspoon baking powder
1/2 teaspoon salt
1 tablespoon instant coffee crystals
I use a plastic, gallon sized, zipper bag for this recipe. Measure all of these ingredients into the bag. Zipper it closed, and gently shake to combine all of the ingredients. Label the bag, and make sure it is sealed all the way. Store on the pantry shelf until needed. Make several at once for the most convenience.
To Prepare
1 package of Dark Rich Chocolate Cake Mix
2 cups tap water
1/2 cup vegetable oil
2 medium eggs
Empty the cake mix into a big bowl. Add the water, oil and eggs. Beat with a whisk or electric beaters for about 2 minutes, or until the mixture is smooth and any lumps are gone. Turn the batter into a well oiled 9″ x 13″ rectangular pan. Bake at 350° for about 35 to 40 minutes. The sides should be pulled away from the sides of the pan, and a toothpick inserted in the center should come out clean. Be careful not to overbake. Cool and frost as desired. Makes about 24 pieces. This is one of the best cakes in my collection.
Disclosure: Some of the links below are affilate links, meaning, at no additional cost to you, I will earn a commission if you click through and make a purchase.