Cute After School Snacks Made From Hard Boiled Eggs – Frugal Tip
I love boiling up eggs for after-school snacks… or really as quick snack anytime of the day. Of course they are great for breakfast too. They are packed full of protein and are very frugal. But just a plain hard boiled egg can get a little boring. We decided to have some fun with it. Here are 3 cute ideas to make hard boiled eggs more fun.
Toadstool Eggs
These are so cute for any little gnome running around in your house. And a great way to get them to try tomatoes.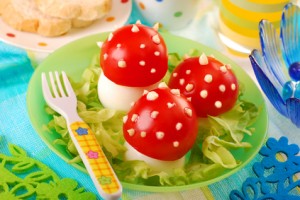 Here's how to do it:
Cut a little off the bottom of the hard boiled egg to make sure it stands up well. For smaller toadstools, cut the egg in half and use it to make two cute mushrooms.
Cut the end of tomatoes and if they have a lot of seeds, scoop those out with a spoon. Set the tomato piece on top of the egg and make small white dots with a little mayo. Serve on a bed of butter lettuce for some added nutrition, or just set them on a plate.
Who Needs Bacon …
… when you can turn your hard boiled egg into a cute little piggy like this?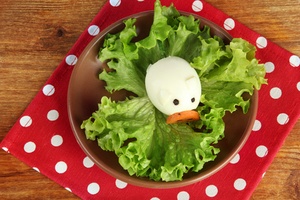 Here's how to do it:
Lay your egg done and cut a small sliver of the long side to make sure it sits up fine. Use the cut off egg white to cut two small ears and lay them on top of the egg. Use small pieces of black olive for the eyes. It helps to make a small hole for each eye first with a toothpick.
Cut a slice of carrot and use two toothpicks to secure it to the egg/ pig. Be sure to supervise small children with this to make sure they don't get hurt with the toothpicks.
Alternatively, you could  "glue" the carrot piece on with a little mayonnaise.
Little Mice
My absolute favorite though, are these little mice. They aren't nearly as complicated as they look. Easy enough to put together for an after-school snack, but cute enough to make a whole tray for a classroom party.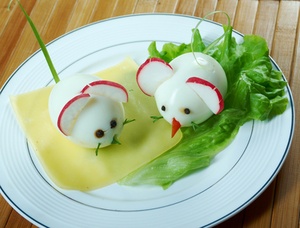 Here's how to do it:
Place the eggs on a plate. If they roll around too much, cut a little off the bottom to make sure they lay flat. Slice up some radishes and use those as ears. Poke holes were the eyes should go and stick small pieces of black olive in them as eyes. Poke some more holes for the whiskers and tail. Those are just pieces of chives. Cut a piece of radish, tomato or carrot to use as the nose. Don't they look cute sitting on the lettuce and cheese?
If you love these ideas, please take moment to share them on Facebook, Twitter, Pinterest etc.
Disclosure: Some of the links below are affilate links, meaning, at no additional cost to you, I will earn a commission if you click through and make a purchase.