Crockpot Scalloped Potatoes
2 lbs. potatoes (about 6 medium)
1/4 t. pepper
3 T. butter
1 small onion, thinly sliced (optional)
1 can cream of mushroom soup – (10 oz.)
3/4 cup milk
1/4 C. flour
1 t. salt
4 slice American cheese
Peel and thinly slice potatoes. Put sliced potatoes in greased CROCK-POT. Top with onion slices. Mix flour and milk together along with undiluted soup and butter, salt and pepper then pour over potatoes. You can layer diced ham with the potatoes, or you can place pork chops on top of the soup/potatoes and cook. Add the cheese slices during the last 30 minutes of cooking. If you use pork chops you will need to brown them on stovetop in frying pan first, and you may want to eliminate the cheese.
Cover and cook on LOW 7 to 9 hours (HIGH: 3 to 4 hours).
Submitted by HBHW reader Granny Annie.
Here is another delicious crockpot recipe from Granny Annie …. crockpot beef stroganoff.
This is a great meal to make and take to someone's house over the holidays, for a potluck, or when you want to take some food to a family who could use a little extra kindness and support. This is one of my favorite side dishes to take for a new mom, or as a sympathy meal. Speaking of which, I've written a short book about make and take meal that you may want to check out.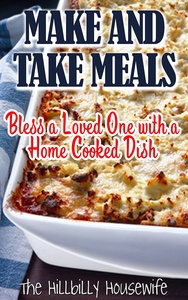 Make And Take Meals – Bless A Loved One With A Homecooked Dish 
There's nothing more thoughtful than blessing someone with a home cooked meal – an elderly neighbor, your friend who just had her first child, your coworker who is recovering from surgery. There are so many reasons to bring someone a nice meal to take the burden off of them or for no reason at all. Just to show your appreciation for that person.
I've gathered some of my favorite make and take meals so you can brighten up a loved one's day. But first we'll take a closer look at why sharing kindness with food is more important now than ever, who may appreciate a home-cooked meal in your own community and circle of influence and what the etiquette is when it comes to taking a meal to someone. I also share my best practical tips and tricks to make this a snap and to make sure you are always prepared to make and take a meal.
Available on Amazon Kindle at https://amzn.to/2MVVy3z
Disclosure: Some of the links below are affilate links, meaning, at no additional cost to you, I will earn a commission if you click through and make a purchase.