Crockpot Ham and Potato Soup
3-1/2 cups peeled, diced potatoes
1/3 cup chopped celery
1/3 cup finely chopped onion
¾ cup diced ham
3-1/4 cups water
6 chicken bullion cubes
½ t. salt
1 t. pepper
5 T. flour
5 T. butter
2 cups milk
Stir all but milk, flour and butter into crockpot. Cook on low for 6-8 hours, check tenderness of potatoes. 20 minutes before serving, melt butter in a saucepan, add flour and gradually add milk, stirring constantly over med heat until thick. Stir mixture into crockpot. Let cook 15-20 minutes more.
Submitted by HBHW reader Susan S.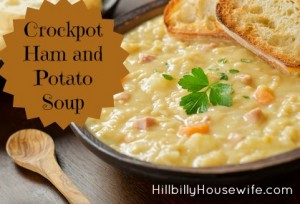 Another easy and delicious crockpot recipe is this crockpot minestrone soup that Susan also submitted.
For even more delicious homemade soup and stew recipes, don't miss this Kindle Cookbook: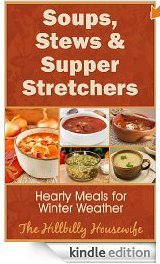 We all have favorite comfort foods that we make over and over to warm us up during cold weather. It's nice to have a few classic dishes to fall back on, but isn't it also fun to find new favorites?
That's exactly what you get in this fun little Kindle ebook – Soups, Stews, and Supper Stretchers
You'll find hearty, filling meals to make you feel cozy and warmer when the weather is gloomy, cold, and dark. Whether you're snowed in or it won't quit raining, these dishes will have you feeling brighter in no time.
Pick it up today and enjoy a warming bowl of comfort food anytime you try one of these recipes.
Soups, Stews and Supper Stretchers
Disclosure: Some of the links below are affilate links, meaning, at no additional cost to you, I will earn a commission if you click through and make a purchase.