Crockpot Beef Stroganoff
3 Pounds beef round steak, 1/2″ thick
1/2 Cup flour
2 Teaspoons salt
1/8 Teaspoon freshly-ground black pepper
2 Medium onions, thinly sliced, and separated into rings
2 Cans sliced mushrooms – (4 oz ea), drained
(or 1/2 lb fresh mushrooms, sliced)
1 Can condensed beef broth – (10 1/2 oz)
1-1/2 Cups sour cream
1/4 Cup flour
Hot, cooked rice or noodles, for serving
Trim all excess fat from steak and cut meat into 3-inch strips about 1/2 inch wide. Combine 1/2 cup flour, the salt, pepper; toss with steak strips to coat thoroughly. Place coated steak strips in crock pot; stir in onion rings and mushrooms. Add beef broth; stir well. Cover and cook on LOW setting for 8 to 10 hours. Before serving, combine sour cream with 1/4 cup flour; stir into crock pot. Serve stroganoff over rice or noodles
Submitted by HBHW reader Granny Annie.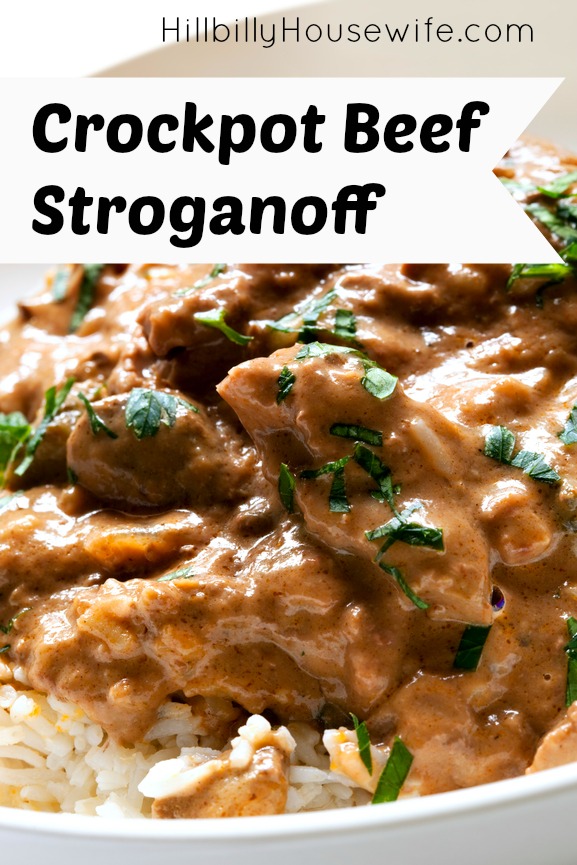 If you're ready for another crockpot recipe by Granny Annie, take a look at this crockpot chili recipe.
Ready to learn try more slowcooker recipes like this one? Get my Ground Beef Slow Cooker Recipes cookbook today and find out how you can work more slow cooker recipes into your own meal plan. There are plenty of tried-and-true recipes to choose from.
Disclosure: Some of the links below are affilate links, meaning, at no additional cost to you, I will earn a commission if you click through and make a purchase.