Crockpot Ham and Potato Casserole
I love this dish because it's so simple and very tasty. If you're not a big fan of mushrooms, use any "Cream of…" type soup. One year I made this with some cream of broccoli soup and added a little chopped up broccoli to the mix as well and it turned out really good. This is also a very kid-friendly meal and perfect for a busy weeknight after the holidays.
If you have a lot of ham leftover, consider slicing it and freezing it. When you're ready to make this casserole just take them out and add them to the crockpot. No need to defrost them… the long cooking time will take care of that for you.
Ham and Potato Casserole
Prep time:
Cook time:
Total time:
Ingredients
6 thick slices of holiday ham
8 potatoes
1 small onion
2 cups grated cheddar cheese
2 cans cream of mushroom soup
Instructions
Wash and slice your potatoes.
Peel and slice the onion.
Lay 2 slices of ham in the bottom of your crockpot. Top with 1/3 of the sliced potatoes and onions. Sprinkle with 1/2 cup of cheese.
Repeat this layering two more times.
Pour the soup over everything.
Cook on low for 7 hours or on high for 4 hours and serve.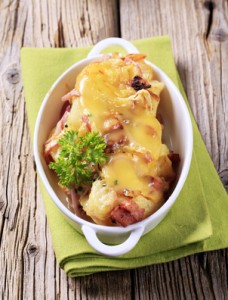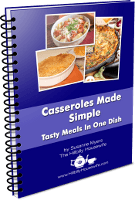 For more delicious casserole recipes and helpful cooking tips, grab a copy of my ebook Casseroles Made Simple – Tasty Meals In One Dish.
You will go from the oven to the table with a mouth watering meal for you family in no time!   Hearty homemade meals, easy clean up, saving time, saving money… what's not to love about casseroles!

Just click on Casseroles Made Simple to order your copy today!
Disclosure: Some of the links below are affilate links, meaning, at no additional cost to you, I will earn a commission if you click through and make a purchase.