Creative Twists For Classic Sandwiches
Even though you may have your favorite sandwiches, you're bound to get tired of them once in a while.  A picnic is the perfect time to put a creative twist on some classic sandwiches that will taste refreshingly different by your design.
Create a Whole New Club
The club sandwich is certainly one of the all-time favorite choices in restaurants and at home as well. This double-decker sensation usually contains turkey or chicken, mayo, tomato, romaine or bibb lettuce, and of course, bacon, all stuffed between layers of toasted bread.
But that doesn't mean there isn't room for a little creativity with your Club. Substitute fresh cabbage for the lettuce for a healthy crunch, or try some prosciutto or ham as an alternative to  bacon. Add a little sun-dried pesto or Dijon mustard for a little spicier flavor. You could even veg-out the classic Club with meatless vegetable patties from your grocer's produce section.

Pamper Your Pastrami
How about those old-fashioned deli stand-bys, the Pastrami on Rye, or the Reuben? These days, you have endless options as substitutes for standard ingredients. If you're up for a change, you might forgo the spicy brown mustard for thin slices of red onion and spicy Pepper Jack cheese.
Speaking of cheese, there's always a little variety in a hearty brie or havarti over the standard Swiss cheese. Also, think about your choice of bread. Bagels, hoagie rolls, and tortilla wraps also make good substitutes for rye bread, especially when you choose the onion toasted or flavored varieties.
Build Your Own BLT
What sandwich shop would be complete without the classic Bacon Lettuce and Tomato sandwich? Yet, with a little creativity, you can make your own classic favorite with a few exotic ingredients. Guacamole or hummus, for instance, make great substitutes for mayonnaise. Maybe a little arugula, watercress, or bitter greens could stand in for your everyday variety iceberg or romaine lettuce.
Make it a 'BLC' with a number of different cheeses like Muenster, Gouda, or a super sharp Cheddar. Again, for those health conscious folks trying to avoid traditional bacon, you could go with grilled strips of tempeh, turkey bacon, or vegan substitutes.
Heck, shred the bacon, lettuce, and tomato into a hot dog bun, add a little relish, and think of Coney Island. We've even seen gourmet chefs incorporate smoked salmon, BBQ shrimp, and lobster into fancier versions of BLTs. These may come with uncommon price tags in the fancy restaurants, but you can make them at home for your next picnic at a fraction of the cost.
As you can see, your imagination is all you need to create different takes on the old classic sandwiches. Choose a variety of ingredients to create a unique twist on old favorites. The choices you make could become healthier choices for your family that create more excitement at lunchtime… or anytime!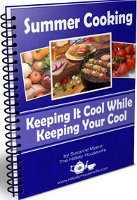 p.s.  Summertime cooking calls for cool cooking.  Whether you're grilling something scrumptious, tossing a tasty salad, or piling a sandwich high with goodies, you need recipes and ideas.
We've put together a nice collection of tips for cooking cool along with recipes for everything from grilled meats, vegetables, and desserts (yes, desserts!), to fruit salads, veggie salads, rice salads, and bean salads.
Put away your cast iron Dutch oven, your roasting pans, your soup pots… it's time to cook cool!  Click on this link and order your copy of Summer Cooking – Keeping It Cool While Keeping Your Cool for ONLY $7 and start enjoying cool cooking today!
Disclosure: Some of the links below are affilate links, meaning, at no additional cost to you, I will earn a commission if you click through and make a purchase.