Cream Cheese Fudge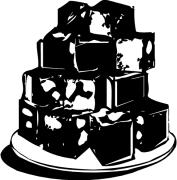 8 ounces Neufchatel or cream cheese
1 tablespoon vegetable oil or melted margarine
1 teaspoon vanilla
1/3 cup unsweetened cocoa
4 cups powdered sugar
OPTIONAL:  1 cup mini marshmallows or 1/2 cup chopped peanuts or walnuts or 1/2 cup dried fruit like cranberries or raisins or a combination to suit your tastes
Soften the cream cheese to room temperature. You can do this by microwaving it for 30 seconds or by letting it stand at room temperature for about an hour. Unwrap it and put it into your mixing bowl before you let it soften.
Add your oil and vanilla to the softened cream cheese. Beat with a spoon until smooth. Stir in the cocoa and powdered sugar. It takes diligent stirring to get the fudge properly mixed together. If you arm gets tired then enlist the cooperation of a friend. The mixture will be smooth, very thick and evenly colored when done.
If desired you may add any extra goodies at this point. They are nice for variety but are not necessary. Work the goodies into the mixture until everything is smooth and even again.
Oil an 8-inch square pan or a large plate. Press the fudge into the pan or make a pretty layer of it on the plate. Chill for several hours to harden. Cut into small squares and serve. This is good enough to be a gift to someone you are trying to be good too. It's cheap as gifts go too, which is always nice, plus it has the status of being homemade. Cut 6 by 6. Makes 36 pieces.
Per Serving: 75 Calories; 2g Fat (22.9% calories from fat); 1g Protein; 14g Carbohydrate; trace Dietary Fiber; 5mg Cholesterol; 26mg Sodium. Exchanges: 1/2 Fat; 1 Other Carbohydrates.
Disclosure: Some of the links below are affilate links, meaning, at no additional cost to you, I will earn a commission if you click through and make a purchase.