Cranberry Muffin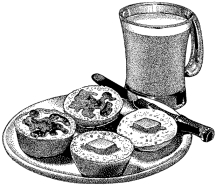 2 egg whites or 1 egg
1 C skim milk
1 C fresh cranberries, cutup
1/4 C canola oil
2 C all purpose flour
1/4 C sugar
1 T orange peel, grated
3 tsp baking powder
1 tsp salt
Place the eggs in a large mixing bowl and slightly beat.
Add in the milk, cranberries and oil and stir well.
Add the flour, sugar, orange peel, baking powder and salt.
Mix until just moistened.
Preheat oven to 400 degrees.
Spray the muffin cups with a non stick cooking spray.
Fill each cup 3/4 full of batter.
Bake 25 minutes or until muffins a light brown.
When mixing muffins remember that the batter will be slightly lumpy. This helps to keep the muffins moist while baking.
Here are some tips on how to freeze these muffins. It's a great way to make them ahead of time and then just reheat and server.
Here's another delicious muffin recipe for you. Take a look at these cinnamon muffins.
Disclosure: Some of the links below are affilate links, meaning, at no additional cost to you, I will earn a commission if you click through and make a purchase.