Cowgirl Beans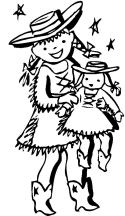 1/2 to 1 pound ground beef
1 onion, finely chopped
1 tablespoon minced garlic
1/2 teaspoon salt
1/8 teaspoon pepper
1 tablespoon EACH vinegar and Worcestershire Sauce
8 ounce can tomato sauce
2-15 oz cans of pork'n beans or a 28 oz can baked beans or 3 cups homemade baked beans
First take out your trusty large skillet. Put the hamburger, onion and garlic in it. Fry everything over medium heat until the meat is cooked through. Break the hamburger up into smallish pieces with a fork as you cook it. Drain off the fat if necessary. Add everything else listed above, choosing either the canned beans or the homemade leftover beans. If the mixture seems dry, add a little water for simmering. Cover the skillet and cook the mixture for about 10 minutes over medium-low heat, or until everything is hot, and the flavors have blended some. Spoon the hamburger and beans over cooked brown rice or whole wheat egg noodles. Serve with spinach, corn on the cob, and fruit salad. This is a really satisfying meal.
How about another good bean recipe? Give this Bean and Rice Mix recipe a try. Mix it up ahead of time and then cook later.
Disclosure: Some of the links below are affilate links, meaning, at no additional cost to you, I will earn a commission if you click through and make a purchase.