Cornmeal Mush
Cornmeal Mush is one of those great frugal breakfast traditions that's slowly being lost. It's very similar to grits, though the cornmeal I buy tends to be ground a little finer. You end up with a hot breakfast cereal that's a little smoother than your regular bowl of grits.
This is very hearty for breakfast, and also makes a nice snack in the middle of the day. I like it with a little margarine and shredded cheese, but it is equally good with sugar or molasses and milk. This recipe serves 4 to 6 people depending on how hungry they are. Of all the breakfast cereals you can buy, this one is the least expensive. We try to have it at least twice a week, sometimes more often because it is so cheap.
How To Make Cornmeal Mush
Ingredients
1 cup cornmeal
1 cup cold tap water
1 teaspoon salt
3 cups hot tap water
Instructions
In a small bowl, combine the cornmeal and cold tap water.
Meanwhile, in a 2 quart pan, combine the salt and hot water. Bring it to a boil over high heat.
While the water is heating, add the cornmeal mixed with the cold water. Combining the cornmeal with cool water before adding it to the boiling water keeps the cornmeal from lumping up when it hits the hot water.
When the water and cornmeal boil, reduce the heat to low.
Allow the mush to simmer for about 10 minutes, or until it is nicely thickened.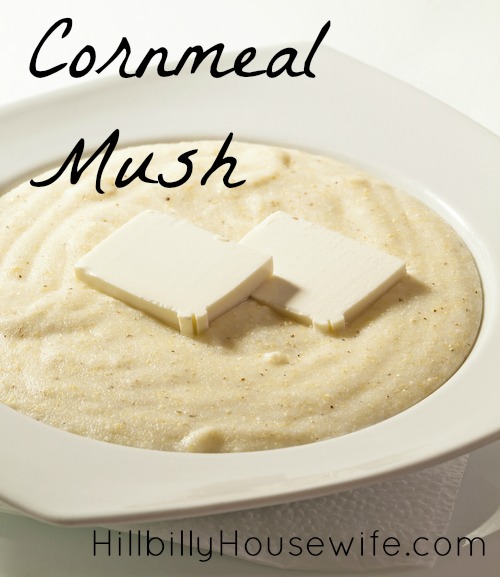 If your cornmeal is less than fresh, you may add half a tablespoon of sugar to make it taste fresher and sweeter.
Disclosure: Some of the links below are affilate links, meaning, at no additional cost to you, I will earn a commission if you click through and make a purchase.