Easy Corn Fritters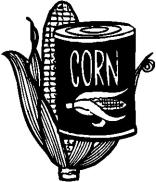 15 oz can corn (drain and reserve juice)
2 medium eggs
1/2 teaspoon salt
1 cup flour
1 teaspoon baking powder
1 teaspoon sugar
Bacon grease or margarine for frying
Drain the liquid from the the canned corn. Measure 1/4 cup of it, and discard the rest. In a medium sized bowl combine the corn juice you've just measured and the eggs. Use a whisk to beat them smooth. Add the salt, flour, baking powder and sugar. Mix really well, until there are no lumps. Add the drained corn and mix again. Heat about 2 tablespoons of bacon grease or margarine in a large iron skillet over medium high heat. When the fat is hot, it's time to drop in the fritters. I drop about 1/4 of a cup of batter for each fritter, cooking about 3 or 4 together in the same pan. Fry them just like pancakes, turning them, after the under side is crispy brown. They cook a little slower than pancakes, because they are thicker. After they have browned on both sides, transfer them to a plate to keep warm. Add more fat to the pan as necessary. This recipe makes about 8 or 9 fritters. I usually double it because they are so popular.
I serve the fritters with applesauce, or Pancake Syrup or just plain with more margarine for the kids. They can take the place of both starch and bread in a meal. For lunch, or a light supper, make Scalloped Tomatoes, Corn Fritters, and serve fruit and yogurt for dessert. Delicious!
Disclosure: Some of the links below are affilate links, meaning, at no additional cost to you, I will earn a commission if you click through and make a purchase.