Coping With Holiday Stress – Tips To Enjoy This Special Season
It's so easy to get sidetracked by all the various to-do lists and worries this time of the year. No wonder you feel stressed out. Here are some simple tips for coping with holiday stress that will help you focus on what's really important – Enjoying this special season with family and friends.
Trade Your Holiday Stressings For Christmas Blessings
When I talk with other moms about their December plans, they're usually all about Christmas. They have cookies to bake, decorations to set up, meals to plan, a house to clean, presents to buy, expectations they will never be able to meet. Sometimes these moms even tell me, "I can't wait for this all to be over so I can relax!"
These activities may be part of a meaningful Christmas, but if that's all Christmas has become for you, it may be time to reconsider your reasons for celebrating.
Where is the joy of the season when you're too exhausted to experience it?
Where is the pleasure in spending time with your family and loved ones when you're too busy to sit and talk with them?
How can their be delight in giving your gifts when you know you spent more than you can afford on something?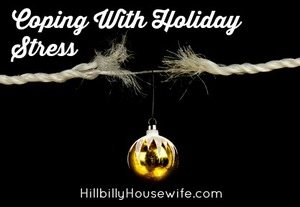 This year, instead of stressing about the holiday season and its accompanying expectations, I invite you to focus on the blessings of Christmas.
Whatever Christmas means in your home,make that the one focal point of all your planning and celebrations. It's easy to be distracted by unrealistic expectations, the high costs of Christmas, and those things we do every year, even though we're not really sure why. This year, celebrate intentionally and with purpose.
For instance, in my family, Christmas is a celebration of Jesus Christ's birth. If I can keep that one thought at the forefront of my plans, everything else fits into place. I remain focused throughout the season and our Christmas becomes focused, meaningful, relaxing, and satisfying.
This year, instead of getting caught up in the holiday stressings, take a deep break and let yourself enjoy your Christmas blessings.
Disclosure: Some of the links below are affilate links, meaning, at no additional cost to you, I will earn a commission if you click through and make a purchase.