Cold Broccoli Salad Recipe
Broccoli is one of the few green vegetables both my husband and my daughter actually like, so I'm always on the lookout for new recipes. I recently came across this cold broccoli salad recipe and it's perfect for the summer time. My family and I have enjoyed especially when we are grilling outside (hamburgers and such). I've also taken it to a church supper and it was gone before you could blink. Definitely a keeper 🙂
Cold Broccoli Salad Recipe
1 lg. bunch broccoli
1 sm. onion, chopped
1 c. shredded cheddar
1/2 lb. bacon, cooked & crumbled
1 c. Miracle Whip
1/4 – 1/2 c. sugar
2 tbsp. vinegar
Start by cutting up the broccoli into bite sized pieces. I also include a good bit of the stems. If you do, be sure to cut those extra small since they can be a little tough sometimes. If your family doesn't like to eat them like that, save the stalks/ stems and either use them with other scraps to make a big pot of vegetable stock later, or save them, then grate them into coleslaw later (a sturdy box grater works well for this).
Get out your favorite coverable salad bowl. I use one with a tight fitting lid. Add the broccoli, chopped onion, shredded cheese and crumbled bacon to the bowl.
In a small bowl mix the salad dressing with the sugar and vinegar. Pour the dressing over the broccoli mixture and toss it well. Let it sit covered in the fridge for at least an hour before serving. You can easily make this cold broccoli salad recipe several hours ahead of time and store it in the fridge.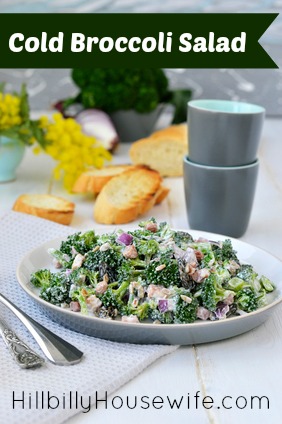 Disclosure: Some of the links below are affilate links, meaning, at no additional cost to you, I will earn a commission if you click through and make a purchase.