Coconut Macaroons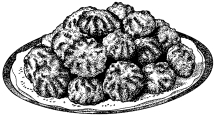 In a large bowl combine the coconut, condensed milk and vanilla. Stir well. Drop by small spoonfuls onto a very well greased cookie sheet. Bake at 350F for 10 minutes. Remove from the pan while still warm. Makes about 3 dozen.
If you are making these to use up coconut from homemade coconut milk, follow this procedure:
Stir everything together and bake as directed above. Makes about 2 dozen macaroons.
If desired, you may add 1/2 to 1-cup of chocolate chips to the recipe and bake as directed. Either way, these are good, easy and very popular.
Disclosure: Some of the links below are affilate links, meaning, at no additional cost to you, I will earn a commission if you click through and make a purchase.