Cinnamon Soy Muffin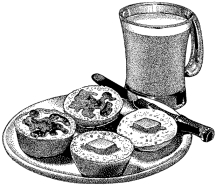 1 C soybean flour
1 C all purpose flour
1 tsp salt
2 tsp baking powder
2 T sugar
3/4 C skim milk (reconstituted powdered milk is fine)
Enough egg substitute to equal 1 egg (or one whole egg)
1 T canola oil
1 tsp cinnamon
1 C pecans, chopped
Preheat oven to 425 degrees.
Spray each muffin cup with a non stick cooking spray.
Sift both flours, the salt, baking powder and sugar together in a large mixing bowl.
In a separate bowl whisk together the milk, egg substitute and oil.
Pour the liquid into the flour mixture.
Beat together just enough to moisten the dry ingredients the batter should be slightly lumpy.
Fold in the cinnamon and nuts with a wooden spoon just until mixed in.
Pour the batter into the muffin cups to fill each 3/4 full.
Bake 18 minutes or until a toothpick inserted comes out clean.
After baking the muffins they come out tough and slightly soggy the batter has been over stirred. By over mixing the finished product will become tough or have a rubbery texture. Only mix muffin batter until any dry ingredients are just moistened.
The kids in our family don't really care much for these, but I love them. Since I can't eat all of them before they start going stale I usually end up popping half of them in the freezer. Here are some tips on how to freeze these muffins.
Here's another healthy soy muffin recipe for you. Try these fruit and soy muffins next.
Disclosure: Some of the links below are affilate links, meaning, at no additional cost to you, I will earn a commission if you click through and make a purchase.