Cinnamon Raisin Muffin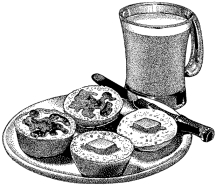 2 C flour
1/3 C sugar
1 T baking powder
3/4 tsp salt
1/4 C canola oil
2 egg whites or 1 whole egg
1 C skim milk
1/2 tsp cinnamon
1 C raisins
1/2 C powdered sugar
2 tsp skim milk
Sift together the flour, sugar, baking powder and salt in a large mixing bowl.
In a small mixing bowl combine well the oil, egg whites and milk mixing well.
Pour the liquid into the dry ingredients.
Mix with a wooden spoon just until moistened.
Gently fold in the cinnamon and raisins.
Preheat oven to 400 degrees.
Spray a muffin tin with a non stick cooking spray.
Pour the batter into the prepared muffin cups filling them 3/4 full.
Bake 20 minutes or until a toothpick comes out clean when inserted in the center of a muffin.
In a small bowl mix the powdered sugar and milk until smooth.
Allow the glaze to thicken slightly.
Drizzle the glaze over the tops of the cooled muffins.
Raisins, dates and figs are a great addition to muffins.Play around with some add-ons to these freezer muffins to make one that's just perfect for you. You may also want to try this ginger muffin recipe.
Here are some tips on how to freeze these muffins. It's a great way to make them ahead of time and then just reheat and server.
Disclosure: Some of the links below are affilate links, meaning, at no additional cost to you, I will earn a commission if you click through and make a purchase.