Cinnamon Muffin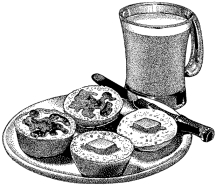 1/4 C canola oil
1/2 C sugar
1 egg or 2 egg whites
1 1/2 C cake flour
1 1/2 tsp baking powder
1/2 tsp salt
1/4 tsp nutmeg
1/2 C skim milk
1/2 C sugar
1 tsp cinnamon
Preheat oven 325 degrees.
Coat the muffin tin cups with a non stick cooking spray.
Cream the oil, 1/2 C sugar and eggs together in a large mixing bowl.
Place the flour, baking powder, salt and nutmeg together in a separate bowl.
Alternate between the dry ingredients and the milk and place into the creamed mixture.
Stir until just combined with each addition.
Fill the muffin cups about 3/4 full.
Bake 20 minutes or until lightly brown and toothpick inserted in the center comes out clean.
Mix the 1/2 C sugar and cinnamon together well in a small bowl.
While still hot turn the muffins upside down and coat the tops with the sugar mixture.
One of the lightest muffins ever made. With the cinnamon and sugar mixture as a topping these muffins please even the pickiest of eaters.
If you love these, make a double batch next time and keep the extra muffins in the freezer.
Of course you don't have to stick to just one muffin recipe. Make up and freeze a batch of these chocolate chip coffee muffins as well.
Disclosure: Some of the links below are affilate links, meaning, at no additional cost to you, I will earn a commission if you click through and make a purchase.