Christmas Morning Frittata
With young children in the house, you don't usually get much of a Christmas morning breakfast. Hubby and I usually just grab a cup of coffee and munch on a few cookies while we open presents. Once things have settled down a bit, I make a big frittata that we have as a late breakfast, early lunch (I guess you could call it a brunch). It keeps us full until an early Christmas dinner with our extended family and leaves plenty of time to enjoy Christmas.
You can precook your bacon the day before, or buy one of the new precooked bacon packs. They are a little pricy compared to regular bacon, but to me it's worth the extra time with my family on Christmas morning. Or just fry it up the day before, wrap it in paper towels and store it in the fridge until you're ready to use it.
Christmas Morning Frittata
Ingredients
1 C. Half & Half (can substitute for milk)
7 Eggs
2 T. Butter, melted
2 Green Onions, chopped
1/4 t. Black Pepper
1 t. Lawry Salt
1 1/2 C. Shredded Cheddar Cheese
6 Precooked Bacon Slices, crumbled
Instructions
Preheat your oven to 350 degrees Fahrenheit.
Prepare a greased 11×7 baking dish.
In a mixing bowl, combine the half and half with the eggs, melted butter, Lawry salt and pepper; whisk together well.
Pour the whisked mixture in the previously prepared dish.
Top with chopped onions, crumbled bacon and shredded cheese.
Bake for approximately 25 minutes, uncovered.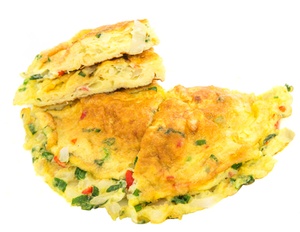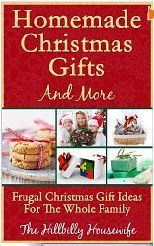 Would you like to steer clear of the holiday shopping crowds? You can with this guide to Homemade Christmas Gifts and More.
Making Homemade Christmas gifts is one way to actually enjoy the process of gift-giving. Not only are homemade gifts and decorations frugal, they're more fun!
We don't have to rush out to the mall to shop for Christmas when we have ideas for creating gifts right at home. Take time to enjoy your holiday season. Click on and download now to start planning your frugal AND fun Christmas.
www.hillbillyhousewife.com/christmasbook
Disclosure: Some of the links below are affilate links, meaning, at no additional cost to you, I will earn a commission if you click through and make a purchase.