Christmas Morning Casserole
A few days ago I shared a Fritatta recipe with you that I was thinking of making Christmas morning. I'm considering changing my mind and making up a breakfast casserole the night before instead. I'm thinking it can bake up while we start to open presents in the morning. How about you? Any special breakfast plans or traditions for Christmas morning?
Christmas Morning Casserole
Ingredients
1 lb. Breakfast Sausage (preferably sage flavored)
3 C. Frozen Shredded Hashbrowns (thawed, drained and pressed)
1/4 C. Melted Butter
10-12 oz. Mild Shredded Cheddar Cheese
1/3 C. Chopped Onion
16 oz. Container of Curd Cottage Cheese
6 Large Eggs
Instructions
Preheat the oven to 375 degrees Fahrenheit
In a large skillet, cook sausage over medium-high heat. Drain and set aside.
Mix hashbrowns and butter together in a greased 9×13 inch square baking dish. Make sure all the sides of the dish are lined with the mixture.
Combine onion, cheddar cheese, cottage cheese, eggs and sausage together in a mixing bowl and pour over the hashbrown/butter mixture.
Place dish in the oven for approximately one hour, or until done. Allow the casserole to cool for about 5 minutes before serving.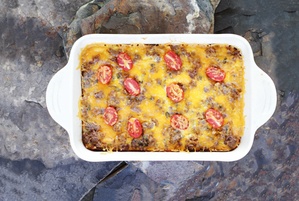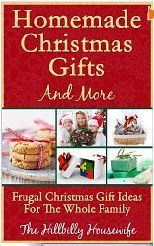 Would you like to steer clear of the holiday shopping crowds? You can with this guide to Homemade Christmas Gifts and More.
Making Homemade Christmas gifts is one way to actually enjoy the process of gift-giving. Not only are homemade gifts and decorations frugal, they're more fun!
We don't have to rush out to the mall to shop for Christmas when we have ideas for creating gifts right at home. Take time to enjoy your holiday season. Click on and download now to start planning your frugal AND fun Christmas.
www.hillbillyhousewife.com/christmasbook
Disclosure: Some of the links below are affilate links, meaning, at no additional cost to you, I will earn a commission if you click through and make a purchase.