Christmas Chocolate Truffles
I made some of these simple truffles with my daughter this pas weekend. We had a blast making them and rolled them in cocoa powder, sprinkles, chopped nuts etc. They are pretty and colorful, not to mention very tasty. They'll make a nice addition to your Christmas cookies and desserts. A small container of these homemade chocolate truffles would also make a wonderful gift. Enjoy!
Chocolate Truffles
Ingredients
20 Squares Semi-Sweet Chocolate, divided
1 pkg. Philadelphia Cream Cheese, softened
Peppermint Candies, crushed
Christmas Colored Sprinkles
Cocoa powder
Instructions
In a small bowl, place eight semi-sweet chocolate squares and melt in the microwave.
In a mixing bowl, place cream cheese and mix with a hand mixer until creamy in texture.
Add the melted chocolate to the cream cheese mixture and refrigerate for a several minutes, or until the mixture is firm.
Meanwhile, prepare two medium sized cookie sheets by lining with wax paper.
Remove cream cheese/chocolate mixture from refrigerator and form into small balls, placing them on the wax paper when formed up.
Next, take the remaining chocolate squares and melt in the microwave.
When chocolate is melted, using a pair of spoons dip the formed balls into the chocolate and place truffles back on the cookie sheets.
Top with crushed peppermint and refrigerate for roughly 1 hour before serving.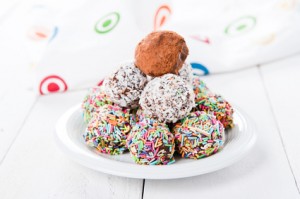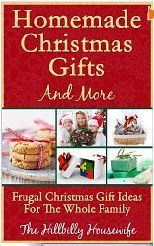 Would you like to steer clear of the holiday shopping crowds? You can with this guide to Homemade Christmas Gifts and More.
Making Homemade Christmas gifts is one way to actually enjoy the process of gift-giving. Not only are homemade gifts and decorations frugal, they're more fun!
We don't have to rush out to the mall to shop for Christmas when we have ideas for creating gifts right at home. Take time to enjoy your holiday season. Click on and download now to start planning your frugal AND fun Christmas.
www.hillbillyhousewife.com/christmasbook
Disclosure: Some of the links below are affilate links, meaning, at no additional cost to you, I will earn a commission if you click through and make a purchase.