Choosing the Right Casserole Bakeware for Your Meal
Casserole bakeware is essential for every day meals and holiday baking. However, choosing the wrong size can mean the difference between a delicious meal or a very dry casserole dish! Here's how you can make sure that the next time you are making a delicious meal, you choose the right casserole bakeware for your family dinner.
Size Matters
For one to two servings, use one cup ramekins to create single serving casseroles. These work great for date nights, taking a meal to a single lady, or just having dinner at home with your sweetheart.
 8×8 pans can be used as well for recipes that have been halved. If the food is right to the top of the pan, you will want to change pans. Food often overflows in casserole dishes.
Consider buying a couple of oval au gratin baking dishes. I find these handy for gratins, and things like baked spaghetti or stuffed shells.
Lasagna pans are named that for a reason! They are built to hold the many layers of a lasagna without having a messy dish.
What are the Best Brands?
Some of my favorite brands of casserole bakeware are:
~Le Crueset
—This one is a little on the pricey side, but it is well worth the money spent. The pieces that I own hold up well and help distribute the heat and cooking evenly.
~Corningware
—This old tried and true casserole bakeware has been around for ages. It goes over well with holds heat well and cooks the food to perfection.
~Pyrex Bakeware
-While I love Pyrex, it can sometimes be hard to cook with. Be sure to follow the directions on how to use this type of bakeware when cooking.
By assuring that you start out with the correct bakeware , your casserole recipe will come out right almost every single time!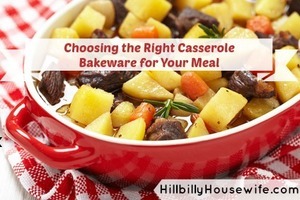 Disclosure: Some of the links below are affilate links, meaning, at no additional cost to you, I will earn a commission if you click through and make a purchase.