Chocolate Oatmeal Cookies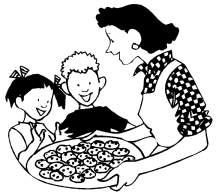 1 cup soft margarine (2 sticks)
2 cups sugar
2 medium eggs
1 teaspoon vanilla
2/3 cups unsweetened cocoa
2 teaspoons baking powder
1 teaspoon salt
2 cups oatmeal
1-1/2 cups flour
2 to 3 tablespoons water
Get out your favorite big bowl. In it combine the margarine, and sugar. Mix and mix until the stuff is smooth and creamy. Add the eggs. Mix some more, and the creamy mixture will become fluffy and satiny. Stir in the vanilla. Measure the cocoa, baking powder and salt into the bowl. Stir until everything is well combined. Finally dump in the oatmeal and flour. Stir up the batter, mixing it well. If the batter seems dry to you, add the optional tap water called for. You may or may not need it, so jut use your best judgment. When everything is mixed and you have a nice cookie dough, it is time to cook the cookies.
Drop the dough by large teaspoonfuls onto an ungreased cookie sheet. Bake at 350F for about 12 minutes. If you make small cookies, they will need less time, but I make them pretty big, so 12 minutes cooks them perfectly. This dough cooks best if it is pressed down with a fork or cup, like peanut butter cookies. I don't always do this, but usually the first batch reminds me to flatten the other batches one way or another.
Disclosure: Some of the links below are affilate links, meaning, at no additional cost to you, I will earn a commission if you click through and make a purchase.