Chocolate Cake
1 cup margarine, softened
2 cups sugar
3 eggs
1 teaspoon each vanilla and salt
2 teaspoons baking soda
1/2 cup unsweetened cocoa
2-1/2 cups flour
2 cups buttermilk or sour milk
Get out a big bowl. Put the softened margarine (you can soften it in the microwave if you like)and the sugar into a large mixing bowl. Using electric beaters, cream them together until they are light and fluffy. Then add the eggs. Beat the eggs in, all at once. Continue beating the mixture until it is satiny smooth and emulsified. Next add the salt, vanilla, baking soda and cocoa. Beat again, until the cocoa is well mixed into the batter, making it chocolaty and fragrant. Then put the flour and the buttermilk or sour milk into the bowl. If you only have fresh milk, you can sour it with a little vinegar. Probably a tablespoon would be enough. Do it like this, put a tablespoon of vinegar into a two cup measure. Add enough milk to reach the two cup line. Allow the milk to set for a few moments, until you see it curdle. Now the milk is ready to use.
Anyway, beat the flour and milk into the batter with your electric beaters. Beat it really good, for about two full minutes, getting out all of the lumps. Turn the batter into a well oiled 9 by 13-inch rectangular pan, or two 9-inch round pans, or three 8-inch round pans. Bake the cake at 350F for 50 minutes in the large pan, and 35 to 40 minutes in the smaller pans. When the edges pull away from the sides of the pan, and the center springs back when you touch it gently, it is done. Remove from the oven and allow to cool for a long time. When the cake is all the way cool, you can frost it. This recipe makes a very large cake. The batter just barely fits in my 9″ cake pans, so if aren't sure if your pans will hold it or not, then place them on a cookie sheet the first time you bake this recipe. That way, if any spills over, it will be easier to clean off of the cookie sheet than the bottom of the oven. Good cake for birthdays and fancy layer cake creations.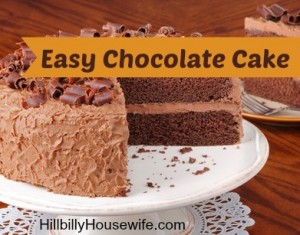 Disclosure: Some of the links below are affilate links, meaning, at no additional cost to you, I will earn a commission if you click through and make a purchase.