Chocolate Applesauce Cake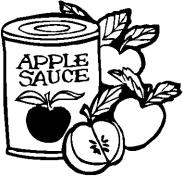 3/4 cup margarine, melted ( 1 & 1/2 sticks)
1-1/2 cups sugar
2 medium eggs
1 teaspoon vanilla
1/2 cup buttermilk or yogurt or sour milk (powdered buttermilk is fine)
1-1/2 cups applesauce
1/2 teaspoon salt
2 teaspoons baking soda
1/3 cup unsweetened cocoa
2-1/2 cups flour
Get out a big bowl and your electric beaters, or a whisk. First cream together the margarine and sugar. You can add another 1/2 cup of sugar if you like it sweeter, but I prefer it just like this. Add the eggs and vanilla, and beat again, until the mixture is light, fluffy and satiny. Next measure in the milk product (buttermilk or yogurt or sour milk, what ever you choose), and the applesauce. Beat again. Finally dump in the dry ingredients. Use the electric beaters to mix it all up for a full minute or two, until it is relatively lump free. If you are doing it by hand, count out about 200 strokes of the spoon. Turn the batter into a well oiled 9″ by 13″ rectangular pan. Bake at 350 degrees for about 35 or 45 minutes. Check the cake by sticking a clean fork or toothpick into the center of it. If the fork comes out clean, the cake is done. If it still has batter sticking to it, cook it a little longer. Cool and frost with Cream Cheese Frosting. Exquisite!
This cake is very rich and moist. It has a full texture that almost melts in your mouth. It doesn't really need a frosting, but is still very good with one.
Disclosure: Some of the links below are affilate links, meaning, at no additional cost to you, I will earn a commission if you click through and make a purchase.