Chocolate Mint Cookies From A Cake Mix
My Mom used to make a chocolate mint cookie that I think she made from a cake mix. They were soft and kind of moist. She would also dust them with powdered sugar. Can you help me find a recipe?

– Marie B.
From The Hillbilly Housewife: 
I have a recipe in one of my handwritten recipe notebooks. I'm not sure who the original recipe came from, but I remember tweaking it and coming up with the one below. I haven't made them in a while, but they were quick and easy to bake up. I think I'll have to bake up a batch this weekend.
Cake Mix Mint Chocolate Chip Cookies
1 box dark chocolate cake mix
2 tbsp brown sugar
2 eggs
1/3 cup oil
2 tbsp water
1/2 tsp peppermint extract
1 cup chocolate chips
Preheat the oven to 350F.
Mix everything excpet the chocolate chips in a large bowl until smooth. Fold in the chocolate chips.
Put the cookie mix by the tablespoon on the cookie mix, leaving about 2 inches of space in between the cookies. They'll start to spread quite a bit while they bake.
Bake them for 10 to 12 minutes or until the centers start to firm up. Cool for a few minutes before removing the cookies from the baking sheet.
Keep baking until all the cookie dough is gone and enjoy the cookies.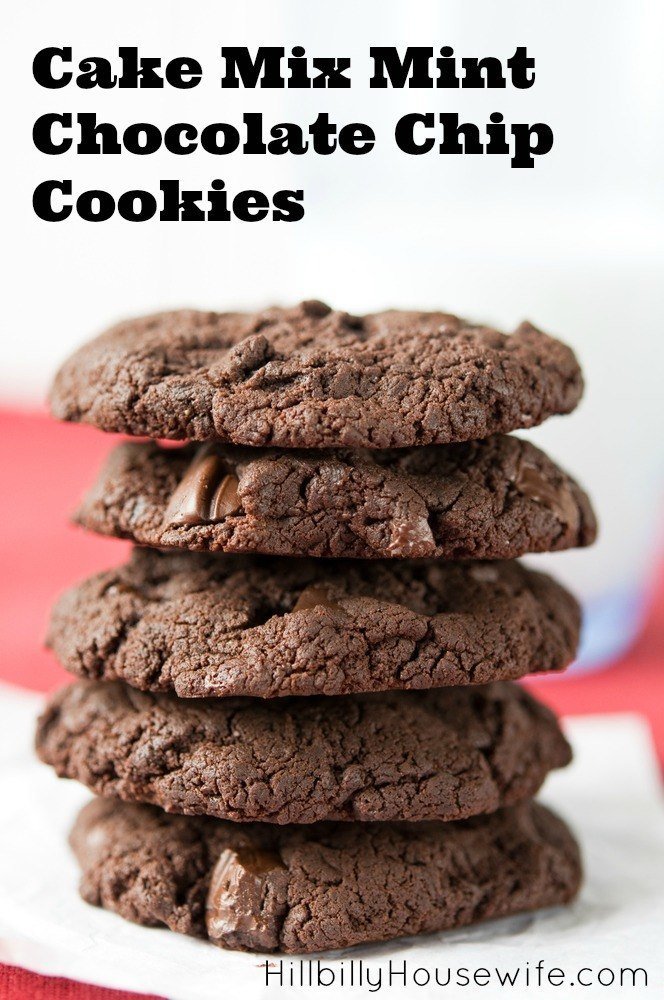 Do you have a different cake box based mint chocolate chip cookie recipe to share? Leave a comment below and let us know how you make yours.
Disclosure: Some of the links below are affilate links, meaning, at no additional cost to you, I will earn a commission if you click through and make a purchase.