Chocolate Chip Coffee Muffin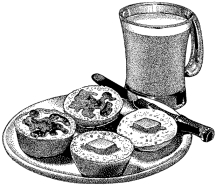 2 C all purpose flour
3/4 C sugar
1 1/2 tsp baking powder
1 tsp cinnamon
1/2 tsp salt
1 C skim milk
2 T instant coffee
1/4 C canola oil
2 T canola oil
2 egg whites or 1 egg
1 tsp vanilla
1/2 C miniature semisweet chocolate chips
Preheat oven to 375 degrees.
Spray a muffin tin with a non stick cooking spray.
Mix together the flour, sugar and baking powder in a large mixing bowl.
Add in the cinnamon and salt and mix well.
Place the milk and coffee in a separate bowl.
Stir until the coffee is completely dissolved.
Stir in the oil, eggs and vanilla.
Continue stirring until the ingredients are mixed together completely.
Pour into the flour mixture and stir until just moistened.
Add the chocolate chips and stir well.
Fill each muffin cup 3/4 full of the batter.
Bake 15 minutes or until a toothpick inserted in the center of the center muffin comes out clean.
These muffins are a great addition to any lazy time. Be sure to have that cup of coffee also to help you relax and enjoy your few minutes of Mom time. Make a double batch next time and keep the extras muffins in the freezer. Or mix things up by also making a different batch like these pumpkin streusel muffins. Then just pop one or two out and reheat for your special morning treat.
Disclosure: Some of the links below are affilate links, meaning, at no additional cost to you, I will earn a commission if you click through and make a purchase.