Easy Chili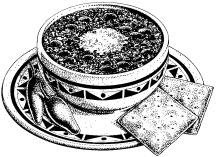 1 pound ground beef
1 large onion, chopped
2 cloves garlic minced, or 1/2 teaspoon garlic powder
15 or 28 oz can of tomatoes
6 oz can tomato paste
4 cups cooked pinto or kidney beans(see note below)
1 tablespoon chili powder
1 teaspoon salt
1/4 teaspoon pepper
1 tablespoon dry parsley (optional)
Get out a big pot, four quarts or bigger. Plop the ground beef and the chopped onion into the bottom of the pot and start frying it over medium heat. Break it up into small chunks as you cook it. When it is all the way brown and grey, with not a speck of pink left, drain off the fat. Open up the canned tomatoes and tomato paste. Add their contents to the big pot on the stove. Also add about 2 or three cups of water for simmering. Add the beans(canned or home cooked), chili powder, salt and pepper (and parsley if you like). Stir it all up and bring it to a boil. Reduce the heat so that the chili merely simmers, and allow it to cook, covered or not, for about an hour. It will be edible in 20 minutes, but tastes better after longer simmering.
To serve, you can ladle this over bowls of hot rice, or you can serve it in soup bowls with big wedges of cornbread dripping with margarine. Either way, it's mighty fine eating. Serves 6 or 8.
NOTE: I usually cook up some dry beans in the morning to put in the chili for supper. To do this measure up about 1-1/2 cups of pinto beans or kidney beans, or a combination. Put them in a big pot on the stove with plenty of water and bring them to a boil. Allow them to boil for a minute or two. Turn off the heat, cover the pot with a lid, and let them sit for at least an hour. After that you simmer them for about an hour or two, watching that they don't run out of water. When they are tender, they are done.
If you decide to use canned beans, use at least two 15 oz cans, better to use 3 or 4 though. I've used pinto and kidney beans most often, but have substituted black beans, northern beans, pork'n'beans, and others as necessary.
Take a look at my other bean recipes, including this TVP and Bean Burrito Mix.
Disclosure: Some of the links below are affilate links, meaning, at no additional cost to you, I will earn a commission if you click through and make a purchase.