Chickpea Tacos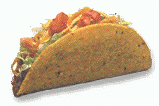 2 cups or 1 can chickpeas, drained
2 cups salad greens
1/2 cup organic sour cream
1 avocado, chopped
fresh cilantro to taste
1 cup salsa
juice of one lime
one clove garlic
corn taco shells
Place avocado in bowl and mash. Add chickpeas, cilantro, garlic and lime juice. Add sea salt, cumin and pepper to taste.
Fill taco shells with chickpea mash, top with greens and sour cream and salsa. These are excellent with a Mexican style rice.
Thanks go Carrie for this wonderful recipe. Click here for more whole foods recipes.
Here are some other bean recipes you may want to try, including this delicious white bean spread.
Disclosure: Some of the links below are affilate links, meaning, at no additional cost to you, I will earn a commission if you click through and make a purchase.