Chicken Pot Pie
Makes 6 servings
3 chicken breasts cooked, cut in small pieces.
1 8-ounce can mushrooms drained
1 16-ounce bag mixed vegetables frozen
1/2 teaspoon thyme
2 10 1/2-ounce cans gravy (chicken)
1 tablespoon cornstarch
2 frozen pie crusts (Pillsbury Pie Crust Dough)
1 egg white
Place one pie crust into pie plate.
Mix all the other ingredients in a bowl.
Place mixture into pie shell.
Place second crust on top and flute edges.
Bake 350° for 45 minutes or until crust is browned lightly.  Let set for 10 minutes, serve.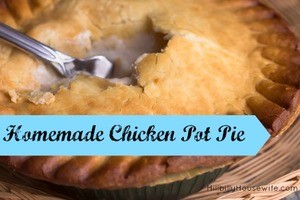 Disclosure: Some of the links below are affilate links, meaning, at no additional cost to you, I will earn a commission if you click through and make a purchase.