Chicken Mini Muffin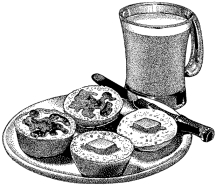 3/4 Cup shredded Swiss cheese
1/4 Cup shredded mozzarella cheese
1 3/4 Cup baking mix
1 Cup skim milk
1/4 tsp salt
1/2 Cup chicken breast meat, cooked and chopped fine
In a large mixing bowl mix together the two cheeses, the milk and the baking mix.
Be sure the baking mix is completely moistened.
Add the salt and chicken and mix well.
Preheat the oven to 400 degrees.
Spray the mini muffin tin cups with a non stick cooking spray.
Pour the batter into each muffin cup filling them 2/3 full.
Bake 10 minutes or until the tops are golden brown and a toothpick inserted in the center come out clean.
These make a great appetizer for that special party. Kids even like them for lunch or as an evening snack.
Here are some tips on how to freeze these muffins. It's a great way to make them ahead of time and then just reheat and server. If you are enjoying these mini freezer muffins, you'll also like these corn dog muffins. They are always a big hit with the kids.
Disclosure: Some of the links below are affilate links, meaning, at no additional cost to you, I will earn a commission if you click through and make a purchase.