Cheesy Broccoli Rice Casserole
This is a yummy casserole that's fancy enough for the Holiday table, but simple enough to put together as a weekday side dish. It's full of flavor and more importantly very cheesy. It's been a big hit with any kid I've served … even those that usually refuse to eat their broccoli.
A few weeks ago I made this with a mix of broccoli and cauliflower and it turned out yummy as well.
Broccoli and Rice Casserole with Cheese
Prep time:
Cook time:
Total time:
Ingredients
4 cups broccoli – cooked crisp tender
4-6 bacon slices – cooked and crumbled
1 lb Velveeta – diced
4 cups cooked rice
4 oz can mushrooms – drained and chopped
1 can cream of mushroom soup
1 cup milk
salt, pepper, garlic powder, and onion powder to taste
Instructions
Combine all ingredients and spoon into 9×13 casserole dish.
Bake 350 F for 30 minutes.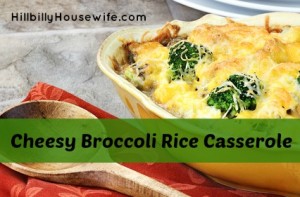 Note – if you don't like mushrooms, leave out the mushrooms and replace the cream of mushroom soup with cream of broccoli, cream of potato, or even better, make your own cream of anything soup.
For a vegetarian version, leave out the bacon or replace it with some portabello mushrooms.
Disclosure: Some of the links below are affilate links, meaning, at no additional cost to you, I will earn a commission if you click through and make a purchase.