Checking Yeast For Freshness – Frugal Tip
There's nothing worse than having a nice loaf of bread starting to bake in the oven or the breadmaker, only to discover that it isn't rising properly because your yeast is less than fresh.
There's a simple test you can do to see if your yeast still rises properly. All you need is a 2 cup glass measuring up, some warm water, sugar and your dry yeast. This works for packets of yeast as well as that jar of breadmaker yeast you've had hanging out in the back of the fridge.
If you have it, a thermometer will come in handy too. Best of all, you can use the yeast from this taste in your baking right away. You're just giving it a little head start with this simple test.
Yeast Freshness Test
 Pour 1/2 cup of warm water into your glass measuring cup. You want the water to be pretty warm, but not hot. If you have a thermometer handy, aim for 110F.
Add one tsp of sugar and stir until it's dissolved.
Pour in one 1/4oz packet of dry yeast, or 2 1/4 tsp breadmaker yeast and stir until combined.
Allow the yeast to sit and proof for 10 minutes. It will start to bubble up.
Fresh yeast will bubble up to the 1 cup marking.
If your yeast bubbles up to the 1 cup level, go ahead and use it in your recipe, omitting the 1/2 cup of liquid from the original recipe.
If the yeast doesn't bubble up to at least close to the 1 cup level, discard it and go get a fresh batch at the store.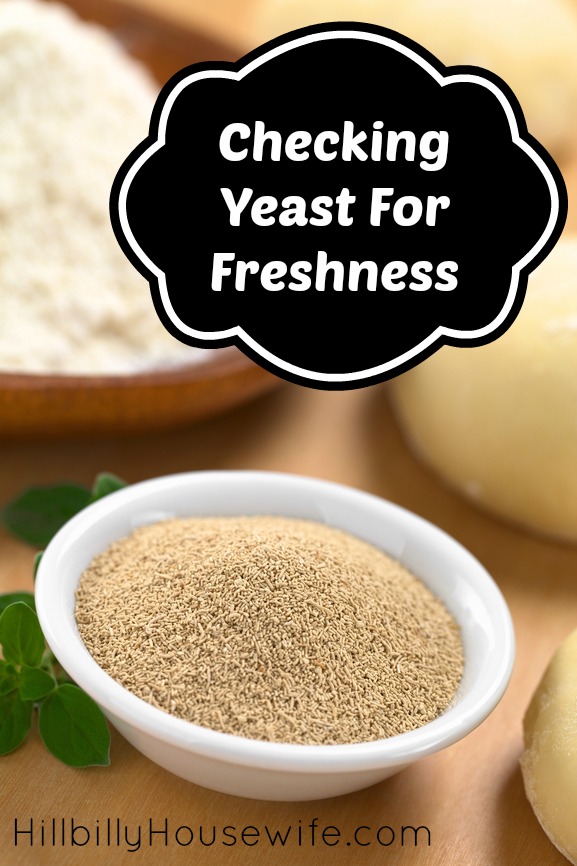 Disclosure: Some of the links below are affilate links, meaning, at no additional cost to you, I will earn a commission if you click through and make a purchase.