Chai Tea Ice Cream Recipe
I love chai tea during the fall and winter months, but in the summer it's just too hot. This year I started experimenting with a chai tea ice cream recipe. Here's what I've come up with. It's a great adult ice cream. My 8-year old isn't a big fan though so keep that in mind if you're making ice cream with the kids.
1 cup skim milk
5 chai tea bags
3/4 cup sugar
6 large egg yolks
2 teaspoons all-purpose flour
1 cup Fat Free Half & Half
1 cup fat-free evaporated milk
Start by making some chai tea with the milk and tea bags. Pour the milk in a medium sized pot and bring it to a simmer over medium high heat (watch it closely, you don't want to let the milk bubble over). Remove it from the heat and add the tea bags. Allow the tea to steep for 10 to 15 minutes. The longer you let it steep, the stronger the chai flavor in your finished ice cream.
In the meantime, mix the sugar and egg yolkes with a wisk in a large bowl. Wisk them until you have a thick, light yellow mixture. Stir in the flour.
Squeeze the teabags out over the milk and discard. Add the half and half to the milk mixture and mix in well.
Next we need to add the milk to the egg mixture. Add a little at a time to the eggs to temper them (or you'll end up with chai flavored scrambled eggs). Once all the milk has been worked into the egg mixture, pour everything back into the pot and put it on medium heat. Stir the mixture constantly until it starts to thicken just a bit. Remove it from the heat and allow it to cool for a few minutes.
Strain the mixture if needed, then add the evaporated milk. Put your ice cream mixture into the fridge until it is very cold, then add it to your ice cream maker and prepare according to the directions for your particular model.
If needed, put the finished ice cream in the freezer for 30 minutes to 2 hours to set all the way. scoop into bowls and enjoy!
For more delicious homemade icecream recipes, grab a copy of the Homemade Ice Cream and Other Frozen Treats ebook here.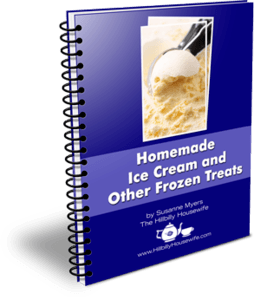 Disclosure: Some of the links below are affilate links, meaning, at no additional cost to you, I will earn a commission if you click through and make a purchase.