Casserole Cooking Tips – Free Report
It's been getting pretty cold around here which makes this the perfect time of the year to dig out those casserole dishes and bake up delicious one pot or in this case one pan meals that will warm you up and stick to your bones.
As you know, I've put together an entire ebook with over 50 casserole recipes together. You still get your copy of Casseroles Made Simple here.
Today I have some more casserole cooking tips for you along with a handful of recipes for you to try. I put it all together in a nice little downloadable report. You can download it below.
Casserole Cooking Tips and Recipes (PDF)
To download this report to your computer, right-click on the link above and choose "Save Link As" or "Save Target As".
As with all my free reports, you're welcome to share this with family and friends, mention it on twitter, facebook etc.
Warmly,
Susanne – The Hillbilly Housewife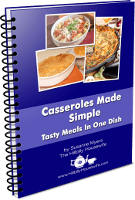 For more delicious casserole recipes and helpful cooking tips, grab a copy of my ebook Casseroles Made Simple – Tasty Meals In One Dish.
You will go from the oven to the table with a mouth watering meal for you family in no time!   Hearty homemade meals, easy clean up, saving time, saving money… what's not to love about casseroles!

Just click on Casseroles Made Simple to order your copy today!

http://www.hillbillyhousewife.com/ebooks/casserole.htm
Disclosure: Some of the links below are affilate links, meaning, at no additional cost to you, I will earn a commission if you click through and make a purchase.