Candy Corn Covered Pumpkin – Frugal Tip
Here's a cute little pumpkin idea that will have your pumpkin lasting longer. Instead of carving it, cover it in candy corn pieces. For an everlasting piece, glue the candy pieces to a plastic pumpkin and cover everything with modge podge.
Just use a glue gun to attach the pieces and leave the pumpkin blank to make the face shape, if you'd like.
I recommend you start with a small pumpkin to see if you like the results. And don't buy the good candy corn for this… just get the cheap stuff. You can also get different types of candy corn (regular, chocolate etc) and create all sorts of fun designs.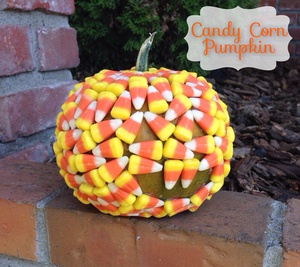 Do you want some more fun ideas for fall? Check out the Homemaker's Hutch Magazine.
Disclosure: Some of the links below are affilate links, meaning, at no additional cost to you, I will earn a commission if you click through and make a purchase.