Can You Fry Cucumbers
Reader question: Does anyone have a suggestion or success story to share on a tasty way to fry up cucumbers?
From the Hillbilly Housewife
This is a little older request, but since it came up I've played around with some of the suggestions below. This year we have a good crop of cucumbers from the garden and I've fried up a few of them. Here's my favorite way to do it.
Deep Fried Cucumbers
Ingredients
1 cucumber
1/4 cup all-purpose flour
salt and pepper to taste
garlic powder (optional)
cayenne pepper (optional)
milk if needed (see recipe below)
oil for frying
Instructions
Cut the ends of your cucumber and see how tough the skin is. If it's very tender, don't worry about peeling it. If it's pretty tough, peel your cucumber. Slice the cucumber.
Pour the flour into a small bowl and season with the spices.
Pour at least an inch of oil into a large pot or skillet and heat it on medium high heat.
Dredge a slice of cucumber in the flour. If enough of the flour mixture sticks to it, start frying. Otherwise, pour a little milk on a saucer and dip the cucumber slices in milk before dredging them through the flour.
Fry the cucumber slices until they get golden brown, turning them about halfway through the frying process.
Put out a plate covered in a paper towel and put your fried cucumber slices on there to soak up any access oil. Eat warm. We like ours dipped in [url href="http://www.hillbillyhousewife.com/ranchdressing.htm" target="_blank"]homemade ranch dressing[/url].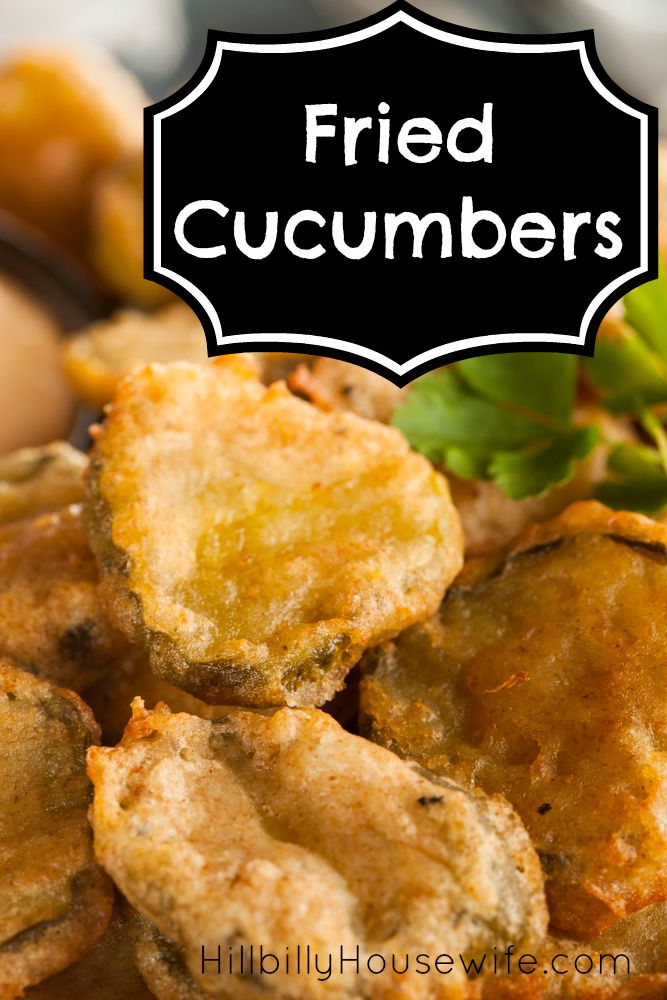 Disclosure: Some of the links below are affilate links, meaning, at no additional cost to you, I will earn a commission if you click through and make a purchase.