Buying Crockpots and Crock Pot Parts – Frugal Tip
It always surprises me when friends tell me that they own a crockpot, but never use it. It sits in the back of a kitchen cabinet collecting dust. Not so with my own crockpot collection… yes, you heard right, I have more than one. I have them in different sizes for different meals or dishes and often use more than one. For example, I may be roasting a chicken in one crockpot and have Mac and Cheese going in another. In today's frugal tip, I'd like to share some ideas with you on acquiring your first, or second or third crockpot inexpensively. And since things tend to occasionally break if you use them a lot, I'll wrap things up with some ideas for crockpot parts.
Buying A Crockpot
You don't have to spend a lot of money (or any) to get a nice crockpot that will work for years to come.
Ask Around
Start by asking around. Mention to family and friends that you're looking for a crockpot. You may just come across a few people that got one as a gift and don't use them. If you're lucky, they'll gladly let you have it to free up space in their kitchen.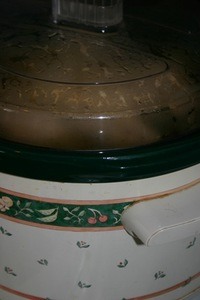 Yard Sales
If you're not that lucky, your next best option is to look around at yard sales. I've found new looking crockpots for $2 to $5 at yard sales. The only problem here is that you may not come across one right away. If you have the time, this will often get you the best deal and is definitely worth a try.
Thrift Stores
If you don't have the time, or it isn't yard sale season, visit your local thrift store. Crockpots often get donated and you can find them here very inexpensively.
Online Deals
Last but not least, shop around online. I've seen some great deals on Amazon for crockpots and one of mine came from there. I like that they have reviews with each model that give me a good idea on how well a particular model will work for me and my family.
Finding Crockpot Parts
The bad thing about using your crockpots on an almost daily basis is the fact that things tend to break. Just last week I dropped the glass lid of one of my pots and it broke.
Thrift Stores
One of my first places to look for replacement parts is my local thrift store. I keep an eye out for parts for my existing collection of slow cookers anytime I stop in and have been able to find quite a few lids and inserts.
Buying Online
If you can't find what you need, look up the manufacturer's website. You can often order replacement parts from there. Just make sure the part won't be more than you could buy a decent crockpot for at a thrift store. Sometimes it's cheaper to get another crockpot than to buy a part.
Disclosure: Some of the links below are affilate links, meaning, at no additional cost to you, I will earn a commission if you click through and make a purchase.