Burger and Veggie Packets
Makes 5 servings
1 pound extra-lean or diet-lean ground beef
1 tablespoon Worcestershire sauce
1 teaspoon garlic pepper
1/2 teaspoon onion powder
2 cups frozen mixed vegetables
30 frozen steak fries (from 28-ounce bag)
5 frozen half-ears corn on the cob
1/2 teaspoon garlic pepper
1. Heat oven to 450°. Cut five 18 x 12-inch sheets of aluminum foil. Mix beef, Worcestershire sauce, 1 teaspoon garlic pepper and the onion powder. Shape mixture into 5 patties, about 1/4-inch thick.
2. Place 1 patty on each foil sheet about 2 inches from 12-inch side. Top each with frozen vegetables and steak fries. Place 1 piece of corn next to each patty. Sprinkle 1/2 teaspoon garlic pepper over vegetables. Fold foil over patties and vegetables so edges meet. Seal edges, making tight 1/2-inch fold; fold again. Allow space on sides for circulation and expansion. Place packets on large cookie sheet.
3. Bake 15 to 20 minutes or until patties are no longer pink in center and juice of beef is clear. Place packets on plates. Cut large X across top of each packet; fold back foil.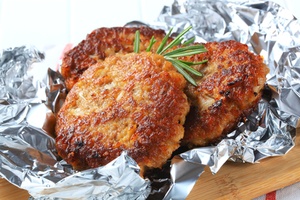 Disclosure: Some of the links below are affilate links, meaning, at no additional cost to you, I will earn a commission if you click through and make a purchase.