Browning Meat For Crockpot Cooking – Frugal Tip
Just a quick tip for you this morning. If you're using meat in your crockpot dishes, take a few minutes in the morning and brown it in a pan. Yes, it takes a little extra time and you have a pan to clean after, but you'll be rewarded with lots of rich flavors.
The nice thing is that it'll only take a few minutes. Cook your meat on medium high heat in a little oil just until the outside starts to brown. This is particularly helpful when you're using stew meat for soups and stews. The outside of the meat will caramelize adding lots of flavor to the finished dish.
If your recipe also calls for onion (or garlic), toss that in the pan as well and allow the onion to caramelize for even more flavor.
One way to make it worth the time and effort is to brown the meat for two crockpot dishes at the same time. You can then either freeze the meat or store it in the fridge for a day and have it ready for the next days' slow cooker meal.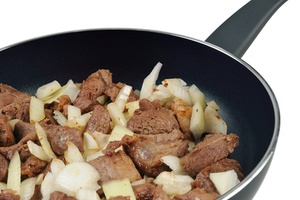 Disclosure: Some of the links below are affilate links, meaning, at no additional cost to you, I will earn a commission if you click through and make a purchase.