Impossible Broccoli and Cheddar Pie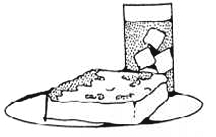 2 (10-ounce) packages frozen chopped broccoli, thawed and drained
2 cups shredded cheddar cheese (8 ounces)
2/3 cup chopped onions
1 1/3 cups milk
3 eggs
3/4 cup biscuit mix (homemade is fine)
1/2 teaspoon salt
1/4 teaspoon pepper
Start by heating your oven to 400 degrees. Get out a 10 inch pie dish and grease it with vegetable shortening, margarine or cooking spray. Pour the broccoli, 1 1/3 cup of the cheese and the chopped onion into the pie dish and mix them.
Get out a small bowl and stir the milk, eggs, biscuit mix, salt and pepper with a fork. Don't overmix this. It's ok if it has a few small lumps in it. Pour your biscuit mixture over the veggies and cheese in the pie dish. Bake it for 30 to 35 minutes until the mixture is set. You can insert a knife in it to check. If the knife comes out clean, the pie is almost done.
Sprinkle the rest of the cheese over the pie and bake it a few more minutes until the cheese is melted.
Disclosure: Some of the links below are affilate links, meaning, at no additional cost to you, I will earn a commission if you click through and make a purchase.