Breakfast Scones
Who doesn't love a nice scone for breakfast. If you've been heading to your local bakery each Sunday morning for these yummy treats, spending a small fortune in the process, give this recipe a try. They are a lot easier to make than you think. The key is to think of them as biscuits cousins. Don't overmix the dough and you'll end up with tender and delicious scones every time.
The recipe below is a starting point. Add your own favorite ingredients like raisins, blueberries or dried cranberries, nuts, chocolate chips and the likes.
2 cups whole wheat flour
2 tablespoons sugar
1 tablespoon baking powder (3 teaspoons)
1/2 teaspoon salt
1/3 cup shortening or margarine
1 medium egg
1/2 cup milk or yogurt or buttermilk (powdered is fine)
1 tablespoon sugar, for sprinkling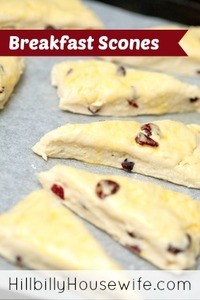 In your favorite large mixing bowl combine the flour, sugar, baking powder, and salt. Use a fork or your hands to cut in the shortening or margarine like you would for biscuits. Be careful not to over mix. The mixture should be crumbly, and the fat should be in chunks the size of peas or dried beans.
In a measuring cup, measure the milk of your choice. Crack in the egg and beat until smooth. Pour this into the dry ingredients in the mixing bowl. Stir the mixture with a fork, forming a soft dough.
Scatter a little extra flour about the dough and form it into a cohesive ball. Knead the dough in the bowl about 8 or 10 times. Do not over mix.
Pat the dough into a large circle about 1/2-inch thick on a well-oiled pizza pan or cookie sheet. Use a pizza cutter or knife to cut the circle into 8 pie-shaped wedges.
Sprinkle the sugar on top if desired. Bake at 425° for about 15 minutes. The scones will be well-risen and golden brown.
Serve hot right away with margarine and jelly. I prefer these with orange marmalade. In addition to breakfast, scones are excellent with tea, or coffee for a snack.
Serves 8.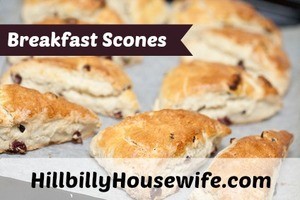 Disclosure: Some of the links below are affilate links, meaning, at no additional cost to you, I will earn a commission if you click through and make a purchase.